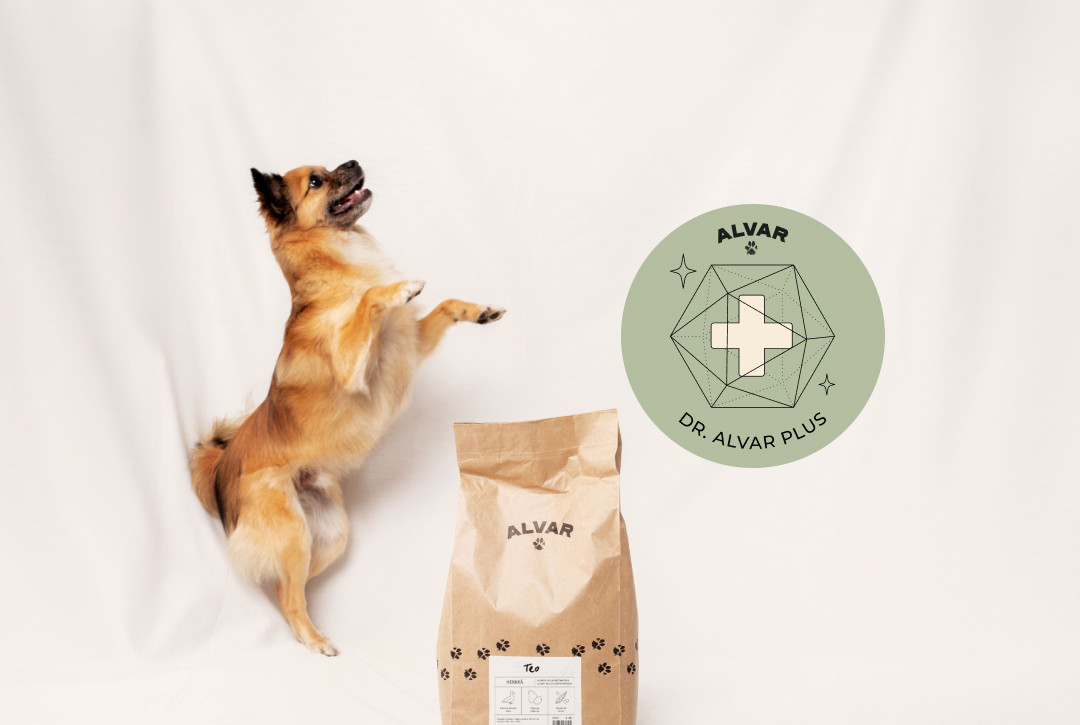 During this summer, we brainstormed how to best communicate the high quality of our products. We're really good at talking about environmental benefits, but when it comes to the active ingredients, functional nutrients, health benefits of our products.. It's complicated, it's a lot, it's difficult to fit into snack-sized content! (When you read this article further, you'll see exactly what we mean 😉🤷🏼‍♀️)
As a result, many potential customers may not look beyond the main ingredients – which are of course also important, but it's the small details that make the big difference in your dog's health.
Allow us to introduce Dr.Alvar+ compounds, the new way we will from now on package product benefits. Let's dive deeper into THE PLUS.
Dr. Alvar+ compounds, more than a sum of its parts
The + are nutritional solutions included in our dry food formulas to support the wellbeing of a dog at a delicate life stage or with a certain specific need. They're developed by Alvar Pet's extended team of veterinarians and dog food experts.
Adjusted levels of essential nutrients together with carefully selected active ingredients create a synergistic combination that provides targeted health benefits to cater to dogs' individual needs. Just like mathematical equations, Dr. Alvar+ compounds are based on science; scientific research of dog's nutritional needs.
The compounds are included in our dry food recipes. Giving a dedicated name to these nutrient sets helps us communicating the product benefits in an easy-to-understand way.
What is in Dr. Alvar+ compounds?
The compounds consist of carefully chosen functional ingredients, vitamins and minerals. Often the lists of technical-looking words like chondroitin sulphate or fructo-oligo saccharide, or think about the antioxidants and vitamins of berries.
As nutritional solutions, however, compounds are not only about functional ingredients added to the recipes. Dr.Alvar+ also emphasises how we have formulated each individual recipe to ensure a balanced intake of essential nutrients, like protein or fat, based on the different needs of dogs.
We primarily source from the Nordics, harnessing the superpowers of our northern nature. Not all the nutrients are available from the Nordics – at least not yet – so some of the tiny but mighty ingredients such as psyllium and glucosamine are sourced from further.
Life stage compounds
Our life stage compounds make sure that your dog gets the nutrients it needs throughout its healthy and happy life.
Puppy+
Nutrient cocktail designed to ensure the optimal growth of a puppy. From the puppy's first food up to 12 months and the brink of adulthood.
Adjusted energy and fat level support healthy and balanced growth rate, and high quality protein provide building blocks for the intensive growth and development.
Highly digestible ingredients together with prebiotic fibres ensure healthy digestive functions and support the development of balanced intestinal mibrobita.
Essential omega-3-fatty acids EPA & DHA to ensure the optimal development of brain and nervous system.
Antioxidants to support building up the natural defences.
Our recipes with Puppy+: Verve, Zippy, Steady, Serene
Senior+
Dogs start showing signs of aging from 6 years and up, and the right nutrition can add healthy years to their life!
Moderate fat and energy together with higher fibre content help maintain healthy weight and support the feeling of fullness while ensuring the intake of essential nutrients from the daily portion.
Highly digestible protein and L-carnitine help supporting strong muscles and lean body composition and help preventing the loss of muscle mass of an ageing dog.
Omega-3-fatty acids, important for the brain and nervous system, contribute to the maintenance of cognitive functions.
Antioxidants help supporting the natural defences and fight against oxidative stress.
Our recipes with Senior+: Delight, Slender
Mother & Puppy+
At the last third of the gestation, pregnant bitches have specific nutritional needs that can best be met through food designed to that purpose. Similar formula also serves for the needs of puppies during weaning from the age of 2-3 weeks.
High protein and fat help support the bitch during the last stages of gestation and through lactation, and cover the intense needs of weaned puppies.
Omega fatty acids and correct mineral balance to contribute to the healthy development of the puppies.
Antioxidants and prebiotic fibres to support the bitch's immunity and the development of natural defences of the puppy.
Highly palatable food helps ensuring the acceptance of the food.
Our recipes with Mother & Puppy+: Zippy
Special needs compounds
Dr.Alvar+ special needs compounds are the cornerstone to needs-based and science-backed nutrition, where you can target specific needs with the active, functional ingredients.
Digestion+
Designed to support the dog's digestive system and gut health. For dogs with a sensitive stomach.
Highly digestible ingredients ensure good digestive functions and reduce fermentation in hind gut, contributing to firm feces.
Psyllium husks further support stool consistency with its gellifying properties.
Beet pulp and prebiotic FOS and MOS help creating a healthy microbiome favouring the precense of good gut bacteria over pathogenic species.
The metabolic end products of bacterial fermentation of fibres nourish the gut epithelium and help support gut-derived immunity.
Omega-fatty acids contribute to the gut cell wall integrity, helping to soothe the intestinal epithelium.
Our recipes with Digestion+: Verve, Delicate, Steady, Bug, Serene
Skin & Coat+
Designed to boost your dog's skin and coat from the inside. Provides targeted health benefits to issues like itchy skin or dull coat.
High quality protein and amino acids to support keratine synthesis for hair growth and skin cell renewal.
Omega fatty acids contribute to the skin integrity and moisture via supporting the epithelial fat layer together with the group B vitamins.
Vitamin A supports renewal of epithelial cells and prevents dandruff.
Chelated zinc and linoleic acid support hair growth and shine.
Our recipes with Skin & Coat+: Baltic Sea, Root, Serene, Bug, Delicate, Zippy, Verve
Weight Control+
Maintaining ideal body condition is one of the key ways to supporting the long and healthy life of a dog. This compound is designed for weight watchers.
Moderate calorie and fat help to limit energy intake while ensuring the balanced intake of essential nutrients from the daily portion.
Increased fibre level help diluting calories while filling the stomach and supporting the feeling of fullness despite the energy restriction.
Highly digestible proteins help maintaining healthy muscle mass and together with L-carnitine contribute to the lean body composition.
Omega fatty acids and chondroprotectants help supporting healthy mobility of joints.
Our recipes with Weight Control+: Delight, Slender
Sensitivity+
For dogs with sensitivities, less is often more – careful would be the one word to describe our approach to designing this compound.
Selected, simple protein sources limit the exposure to multiple allergens, making the product potentially suitable for dogs with skin and digestive sensitivities.
Highly digestible protein sources, moderate fat and balanced fibre composition, including prebiotics, support healthy digestive functions and together with antioxidants help supporting gut-derived immunity.
Omega 3 and 6 fatty acids nourish and soothe the skin.
Balanced intake of vitamins and minerals contribute to the skin renewal and hair growth.
Our recipes with Sensitivity+: Root, Delicate, Steady, Bug
Joints & Mobility+
Supporting joint health may be of specific interest to the owners of big dogs, sporty dogs, aging dogs or overweight dogs.
High quality proteins and ideal balance of minerals such as calcium help supporting strong muscles and bones.
Glucosamine and chondroitin sulphate are the natural building blocks of joint cartilage.
Anti-inflammatory omega-fatty acids help supporting healthy mobility of joints.
Our recipes with Joints & Mobility+: Sturdy, Slender, Delight
Finding the right equation for your dog
Phew, that was a lot – applauds to anyone who made it this far! 😅 👏🏼 Choosing the correct mix of compounds to suit your dog's needs can feel overwhelming, but that's why we're here: to help.
You can start by building a tailored meal plan for your dog – and you're always more than welcome to reach out through our customer support. You can also find more info about Dr.Alvar+ in our nutrition-related FAQ section.
Also, if your dog has a special need that our Dr.Alvar+ compounds don't cover, we'd love to hear! We're always looking for ways to further develop our product portfolio in order to serve and support the health of even more dogs and their different kinds of unique needs. 💚