We are on a mission to minimise the carbon paw print.
Did you know that if dogs formed a country, they would be the most meat-consuming nation in the world? About half of a dog's climate impact is caused by the food. That's why we've started with nutrition.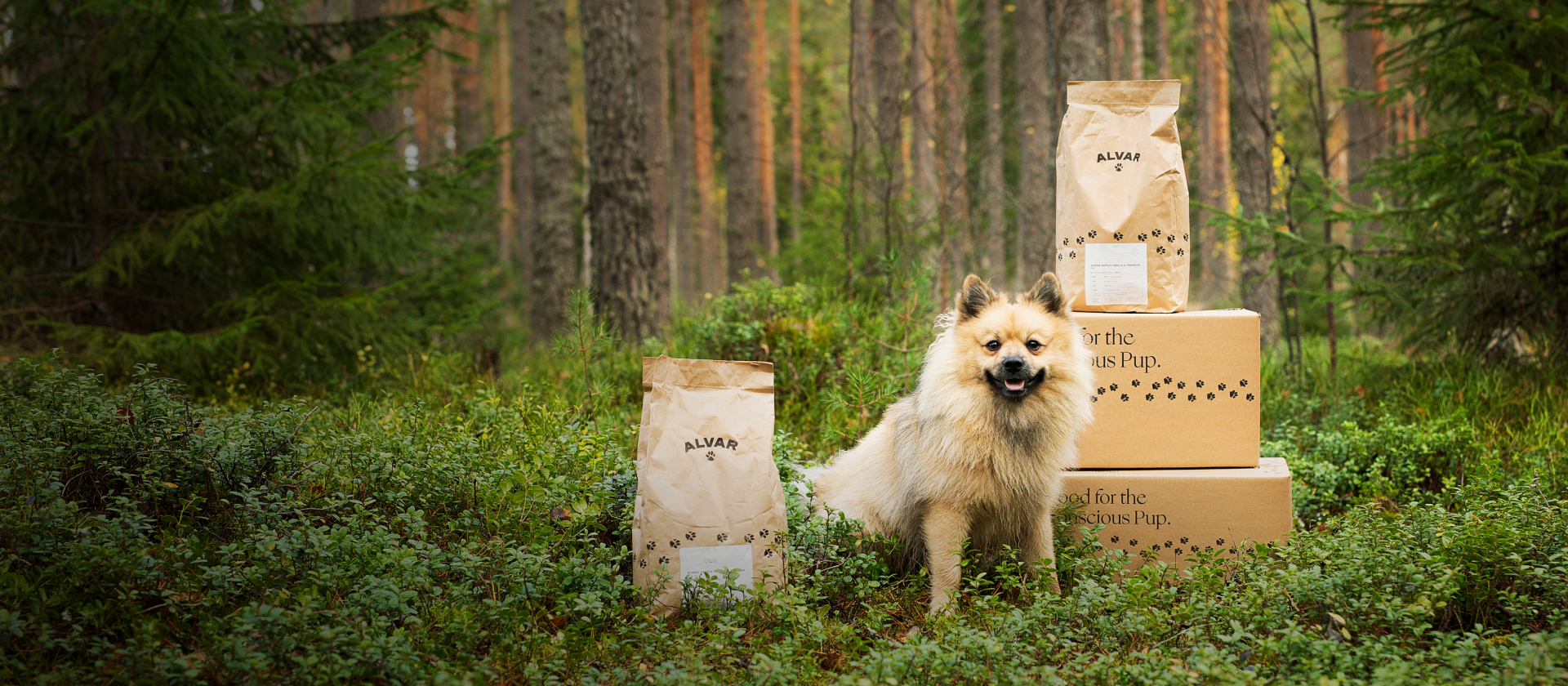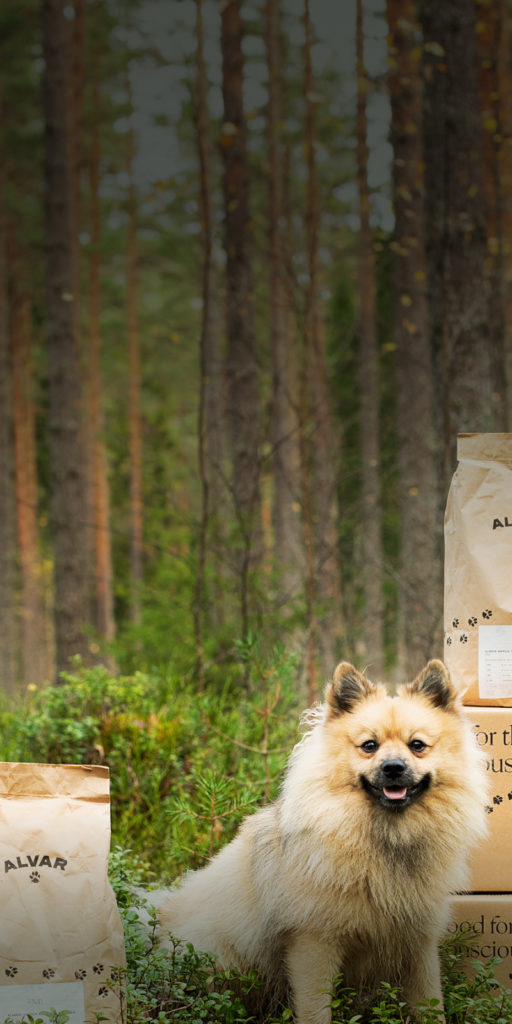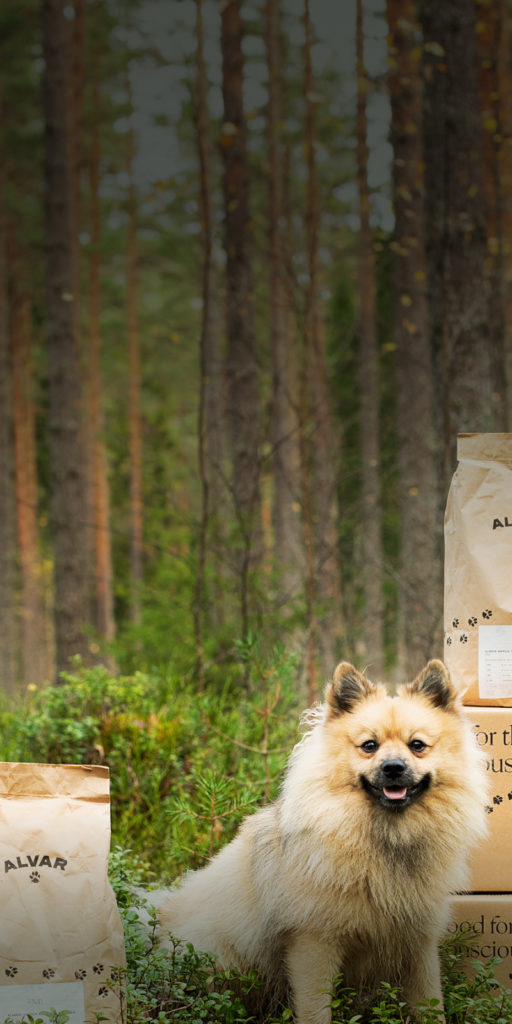 Food for your Conscious Pup
Tailored to meet the needs of your dog and our planet, Alvar's zero-CO2 diet is as delicious as it is sustainable.
More in our latest sustainability report:
Read the report
Why does your dog's carbon footprint matter?
There are as many as 900 million pet dogs in the world, and about 700,000 in Finland alone.
Most of a dog's carbon paw print is due to its food. A dog eats about half as many calories as the average person, but the amount of energy intake from animal feed is just as high.
People are ready to invest in dogs: the amount of money spent on pets has doubled in the last ten years, to more than 1.2 billion euros per year in Finland alone. Caring for dogs is a good thing, but the growth of the industry trends is concerning. Dogs are fed with foods that contain unnecessarily much meat, and the foods are marketed as "human grade".
Whose responsibility?
Climate actions are not only the responsibility of the dog owners, and we shouldn't feel guilty for owning one. We want to create a service for climate-friendly pets – and we need you onboard to show the industry and decision-makers that there is a demand for more climate friendly alternatives.
Alvar's approach to the zero carbon paw print
We at Alvar believe that owning a dog should not be a choice against the climate. To achieve our mission, we need to lead the transition to more sustainable industry.
We have designed both our products and our business model carbon neutrality on mind. Reducing emissions takes place in every aspect of our operations with the principle of avoid-reduce-change-remedy.
Ingredients & Materials
We choose our ingredients and materials based on functionality, quality and very importantly, their carbon footprint.
Suppliers
We choose partners that share our commitment to sustainability. We prioritise suppliers that are transparent about their sourcing and production practices.
Packaging
Packaging choices play a key role in our sustainability mission. Our packaging design aims at ensuring product safety with low carbon, renewable and recyclable materials.

Compensation
We partner with the Finnish Nordic Green Solutions Compensation Operator. They compensate by extending the carbon sequestration cycle of Finnish forests and afforesting new forest areas.

Calculating our carbon paw print.
As part of our goal, we will determine the carbon footprint of our products to the highest possible standard in the industry. * The calculation includes all significant greenhouse gas emissions over the product's life cycle.

We have calculated the carbon footprint for all of our products. The average emissions of our products are 1,0 kg CO2e /kg and dry food recipes 1,04 kg CO2e / kg.

The diagramme shows that the ingredients make up most of the products emissions and transportations is the next largest emitter. We have already reduced the mileage as short as possible with our "direct-to-dog" distribution model. The products go from our factories to our warehouses and from there directly to the consumer, without intermediate storage, terminals or other distribution points.

Understanding the distribution of emissions, we can both communicate our greenhouse gas emissions reliably and transparently and identify the most effective ways to reduce our carbon footprint at different stages of the supply chain.

The calculation has been carried out by UseLess Company or our own experts – all calculations are carried out according to the standards and based to the most recent research and data.
Want to know the paw print of a specific product? See each product's breakdown on their individual product pages.
* We determine the carbon footprint of our products with the most appropriate and accurate standard possible for the industry: ISO 14067 and Product Environmental Footprint Category Rules (PEFCRs) Prepared Pet Food for Cats and Dogs (EU standard for calculating the environmental footprint of a dog food product).
Sustainability is at the core of our business
The purpose of the company's operations is to generate profit for shareholders in such a way that the company's decision-making takes ecology and ethics into account.
Alvar's profitability and growth will never be at the expense of the environment – it is dictated in our Articles of Association.
Our ambitious work towards minimising the carbon paw print is a continuous progress.
Alvar's impact in brief
182 628 kg
food waste saved
17 kg
textile waste saved
518 400 kg CO₂
compensated
Want to learn more about sustainability?