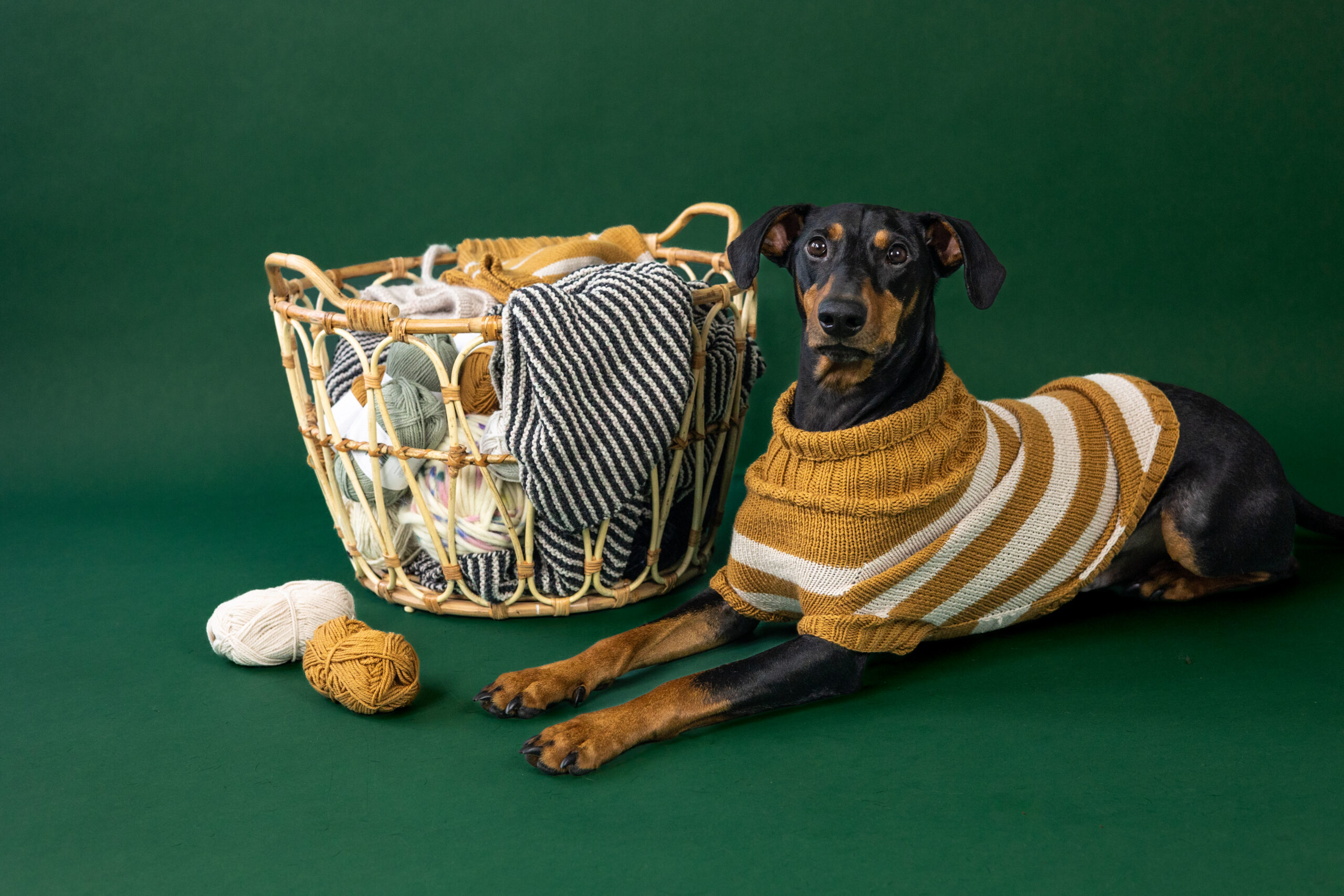 This year we had the pleasure to continue our partnership with knitwear designer Sari Norlund. Sari has designed two new patterns for the Alvar knitwear line: the Alvar Stripe dog sweater and the Alvar Balaclava hood. 💚🧶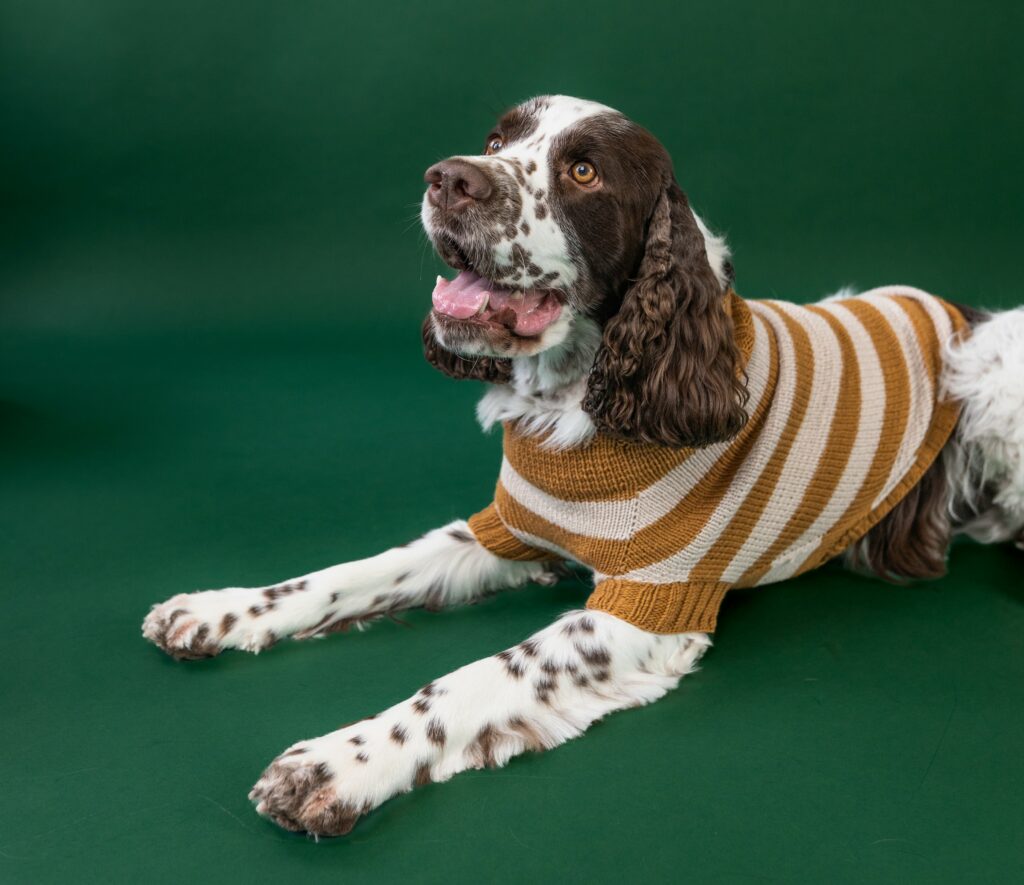 Introducing Alvar Stripe dog sweater and Alvar Balaclava hood
The dog sweater and balaclava are designed to protect you and your dog from the cold of fall and winter. Want to match with your dog? The sweater and balaclava can be knitted from the same colored thread so you two can be a stylish pair during your forest walks and city strolls. Pst! The knit combo is a perfect ecological Christmas gift for a loved one (🎄🎅🏽).
The dog sweater comes in five sizes and is beginner-friendly, so knitters from all skill levels are welcome to join the knitalong. The patterns are available to download for free from our blog until the end of November.
Why knitting? You make dog food, right?
Our mission is to minimise the CO2 pawprint and bring environmentally friendly solutions to dog owners.
Daily dog walks are an important activity for all dogs and their owners and during the coldest time of the year, extra warming layers are a welcomed addition to the usual attire. 💨🍃
Instead of buying a mass-produced dog sweater of poor quality for your dog to keep warm in the upcoming cold & dark winter months, we encourage you to consider a more sustainable (and in our opinion: a way better looking than store-bought) approach to keep your pup warm.
Some dogs don't necessarily need clothes for wintertime, but if your dog has a thin coat or is prone to get cold a sweater could be a nice addition for them.
Who's the designer behind the knits?
We had the pleasure of working with Sari last year when we launched the first pair of Alvar knits. Sari is the ideal collaborator since we want to work with someone who shares our green values. This of course still applies so we are very excited to continue the collaboration this year.
A little bit about Sari: she is a knitwear designer who lives by the sea in Finland and spends most of her time knitting (despite vowing never again to touch needles and yarn after failed attempts at knitting in her childhood) and loves good quality coffee, knitting cables, dogs and cats (not necessarily in that order).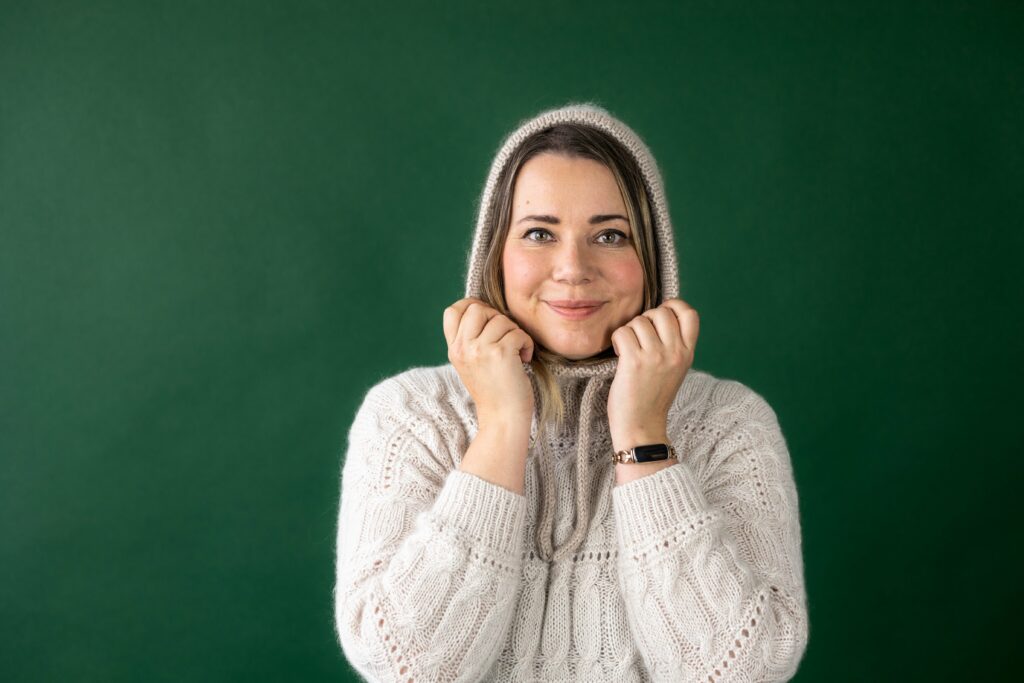 Yikes, I love the idea but I don't know how to knit 😅
Worry not – when bringing the designs to life we wanted to make the pattern unique yet beginner-friendly. The only techniques you need to complete this are:
Knitting right stitches
Knitting purl stitches
Increases
Decreases
P.S. You can find tutorials for the techniques from our Instagram account.
The sweater comes in 5 sizes. You can choose whether you challenge yourself with the Striped pattern or knit the body of the sweater with only plain stitches to make it even more easily approachable. Want to match with your dog and stay warm during your dog walks? If yes you can knit yourself the Alvar Balaclava hood. From a technical perspective, the hood is around medium level, so it's not too hard for a beginner but patience is required.
Still, have questions about the pattern? Shoot Sari a message on Instagram and she will help you out 💚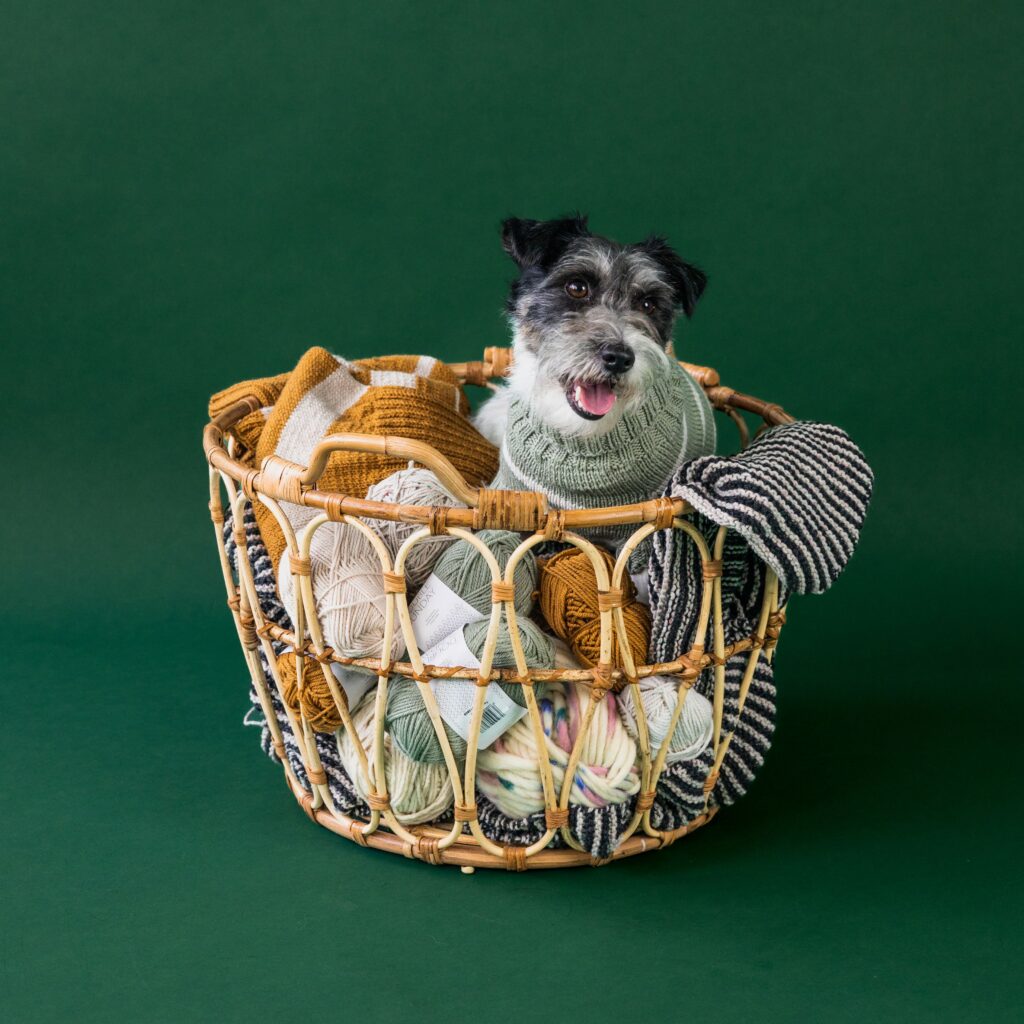 Alvar's eco tips for knitting
In knitting what yarn you use has a lot of effect on the knits' environmental impact. This year we chose to work with Sandnes Garn who produce their yarn in Norway in their own factory. If you happen to have a yarn at home that is the right thickness, that should work well for this project as well.
Alvar Stripe dog sweater is also designed in a way that you can easily utilise your leftover yarn for the stripes. So if you happen to have leftovers from different projects why not use them to make the stripes and you'll end up with a unique stripe pattern.
We recommend also checking out your local recycling centers and thrift stores – you might find some goodies from those as well. 🧶♻️
Don't forget the snacks!
In addition to cool knitting collaborations, our startup Alvar Pet creates meal plans tailored to each dog's unique needs. We're here to combine what's healthy for your dog, with what's healthy for our planet!
May we suggest some delicious treats to go with your #alvarknitalong project?
Get your needles and yarn ready, set, knit!
You can download the patterns for free from our blog until the end of November, after which they will be available in Sari's Ravelry -shop
We would love to see your process and creations (and the dog models of course!) – share your knitting progress on socials with the hashtags #alvarsweater #alvarbalaclava #alvarknitalong
Happy knitting, we can't wait to see your creations!
🤎 The Alvar team & Sari