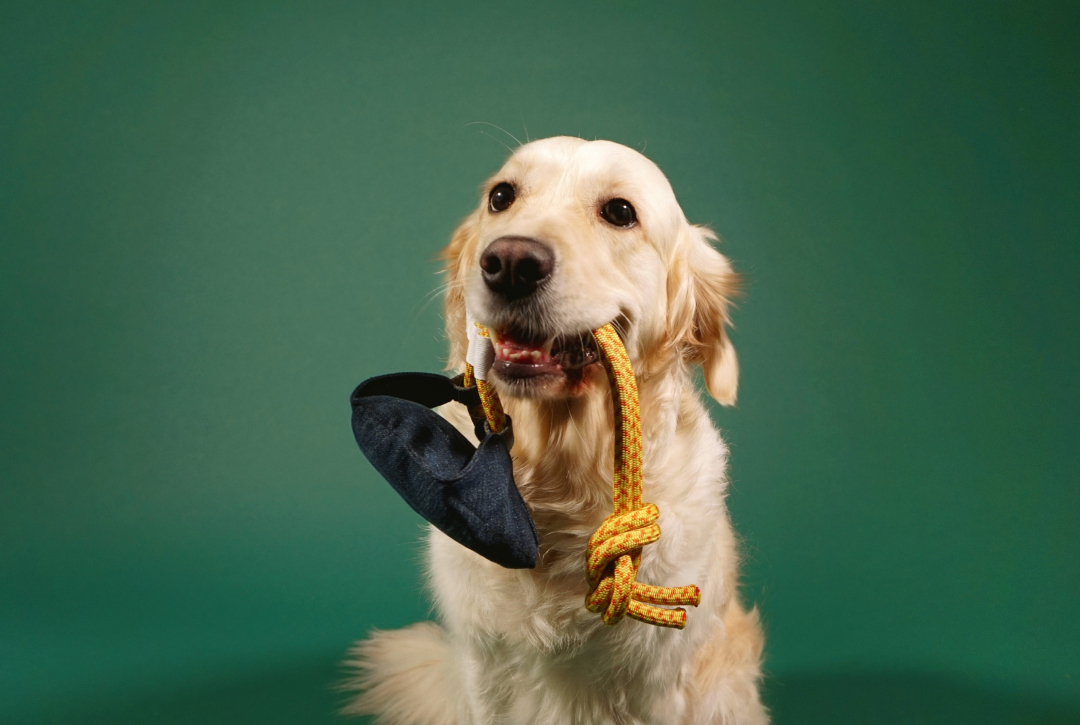 Most of the toys out there are the opposite of sustainable, so we decided to take on the challenge and extend our good for the dog and good for the planet product development philosophy into toys too.
Here, Alvar Pet's Designer Valentina sheds light into the toy design process!
The design brief
To start this project and venture into non-edible products, we set ourselves some rules and requirements, that would lead the design process:
Needs-based and functional
Safe for dogs
Durable
As much recycled material as possible
Local or near-by production
→ As small of a carbon paw print as possible. ✔️🐾
Linear vs. circular design
Our main expertise is in nutrition, where there is only the packaging waste at the end of the lifecycle (which we try to keep as low impact and as highly recyclable as possible). The product itself is eaten by the dog and in most cases there is very little product waste.
We make our dog food more sustainable by choosing more sustainable ingredients, recipes, manufacturing processes and compensating all emissions created during the process.

Venturing into non-edible products means that, if we really want to design something truly sustainable, we must also consider what happens after the toy comes to the end of its use.
Many so-called "green" (or rather greenwashed) products focus on only one small part of the supply chain, for example using organic cotton instead of regular cotton. The rest of the chain, plus overconsumption and excess waste, stays the same. Thus not much changes in the bigger picture.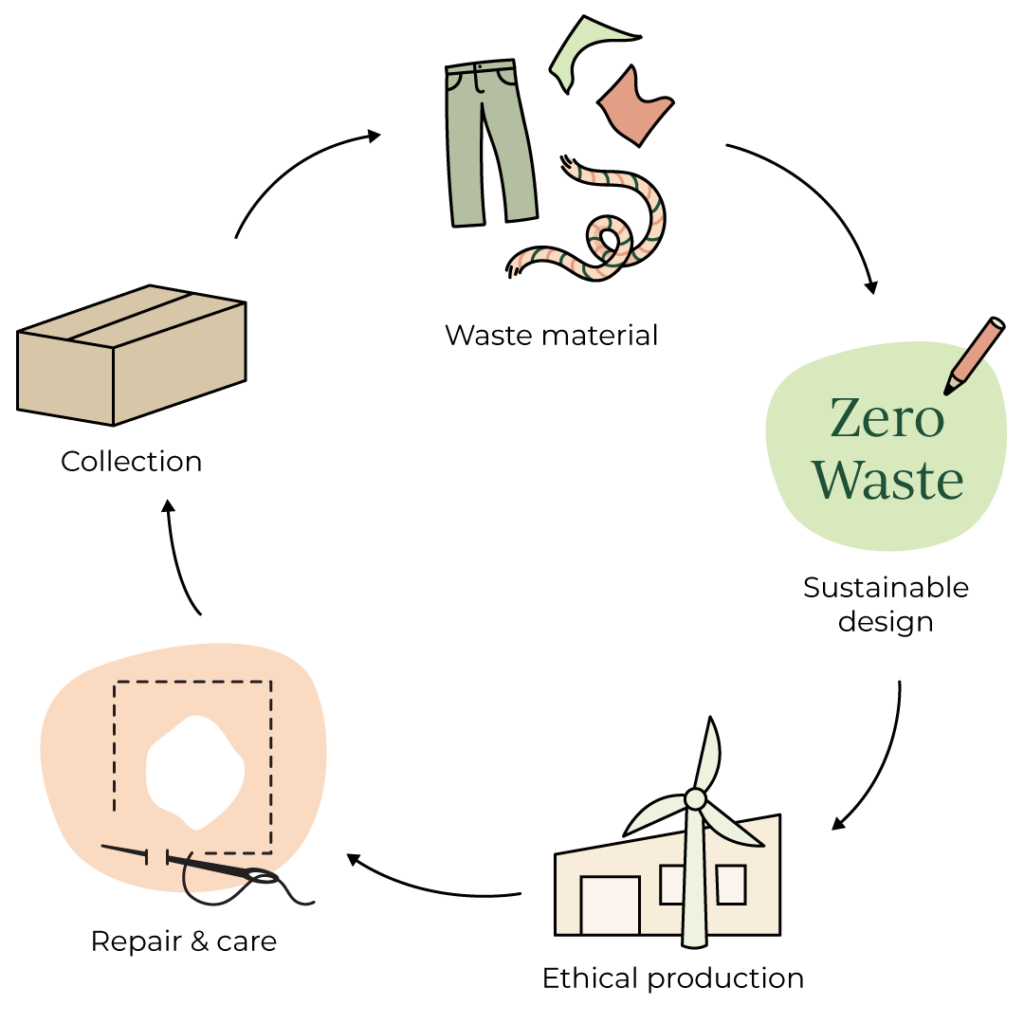 If we really want things to change, the goal has to be to implement a circular lifecycle, where any waste at the end of a product's life isn't thrown away but rather recycled or upcycled.
Think about what we do with Alvar food recipes: we take nutritious sidestreams from the human food industry and instead of throwing them into the trash, we use it to make dog food.
To do the same with our toys, we source waste materials, design the products to be produced in a zero-waste process, as well as offer guidance on sustainable consumption, care and repair.
Finding a partner
The bar was set high for finding a credible local partner, who would be able to cater to our criteria. Almost all toys sold in pet stores are produced in Asia without any oversight on working conditions and very little insight into the supply chain and material origins.
Instead of partnering with an established pet toy manufacturer, we decided to collaborate with Globe Hope, the Finnish pioneer in sustainable fashion. Globe Hope create every single one of their products from existing materials, by using leftovers, waste and recycling or upcycling things. So inspiring – and the perfect fit for us 💚
Prototyping & testing
Early into the planning, we decided to create two different types of toys to best serve the entertainment needs of different dog personalities: a cuddling and an activation toy. Globe Hope had some initial ideas for the latter, and I (Valentina) used that as a starting point to prototyping. I have a lot of experience in working with leftover textiles, thanks to my @wastelesswonders project.
All in all there were 5 versions of prototypes. Already in the prototypes we used as much recycled and waste materials as possible. Our team's old jeans found a second life as toy protos and many other pieces of fabric, webbing and thread were sourced from second-hand shops.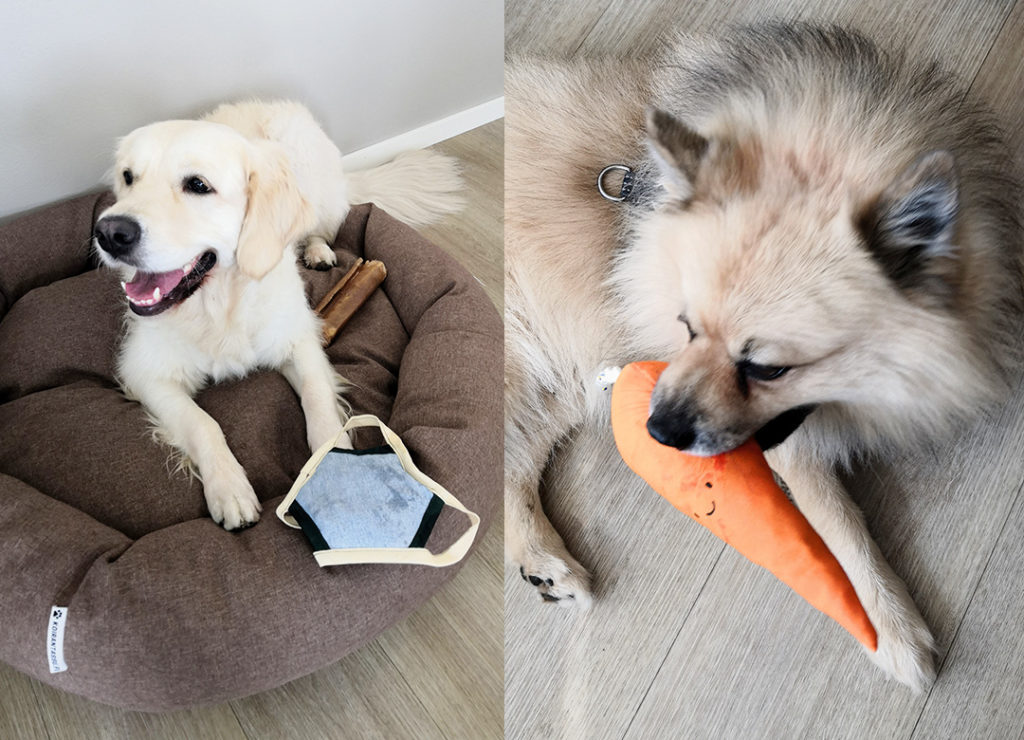 Alvar's Upcycled Toy Crafty
A frisbee-like first version evolved into a flexible, multi-functional toy that has a freely moving rope instead of a fixed strap. The toy can be cinched into a ball with a long rope handle, making it fun and easy to throw.
Early designs also featured little pockets to hide treats, but concerns about keeping them clean lead to those being abandoned and replaced by little flaps, where treats can be hidden when the toy is closed, but easily accessed for cleaning when the toy is open.
To sum up: Crafty doubles-triples for tugging, throwing, hiding treats – a multitasker of a toy.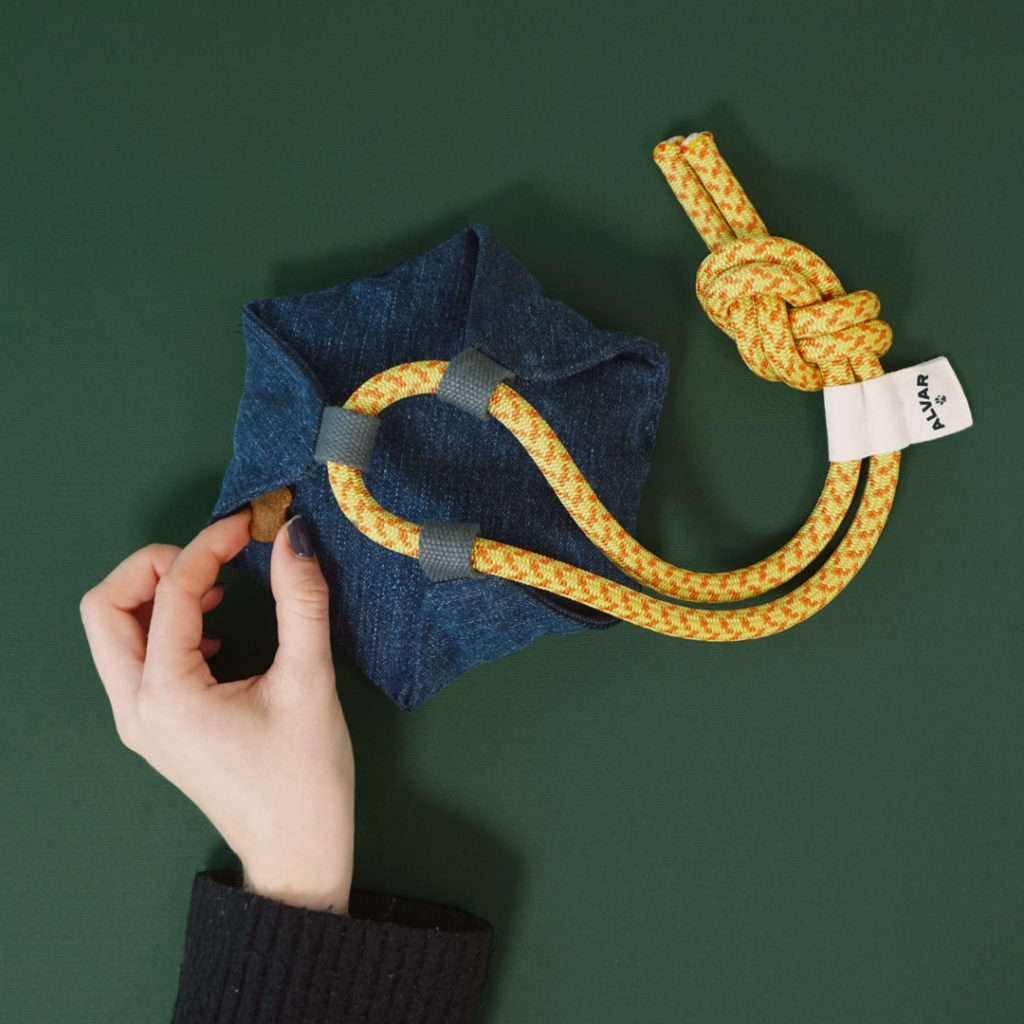 Alvar's Upcycled Toy Cuddly
We decided it would be fun to create a plush toy that resembles some ingredient familiar from our recipes. The shape also had to be simple enough to sew efficiently and sturdy enough to withhold rougher playtime.
After trials and tweaking, the carrot was perfected and ready for production. Its body can be sewn from a single piece of fabric, and the "leafy green" bit firmly planted in to stay put.
This was definitely one of the most beloved toy prototypes at the office: our dogs love to pull on the little ropes coming out from the top.
Cuddly saw daylight 3 months later than planned, due to the nature of working with recycled materials. The sourcing process can be time-consuming and tricky. But finally, and just in time for Valentine's Day… Meet Cuddly. 💖🥕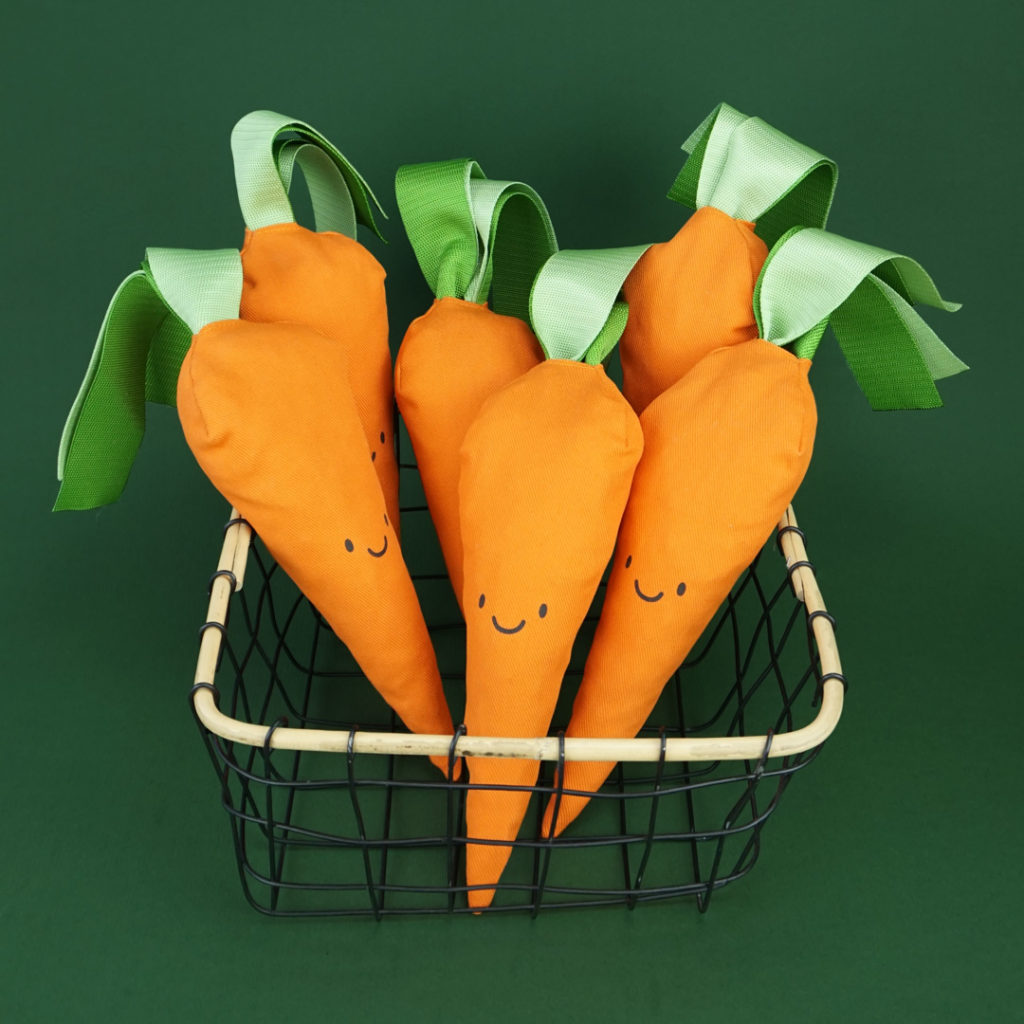 Material selection
After we were set on the design and had thoroughly tested our toy prototypes, we went back to Globe Hope to pick out the final materials for our toys. Here's what we landed on:
Crafty is made of…
The body's shell is used denim. Jeans collected from the Lounais-Suomen Jätehuolto – Turku area recycling center are now reborn as dog toys!
Climbing ropes: did you know they have an expiry date? When it can no longer guaranteed that they would be safe to catch a fall without breaking, ropes go to waste. Not anymore they do: we rescue Helsingin Kiipeilykeskus's waste.
Globe Hope's material archives already had leftover polyester straps for holding the rope as well as felted recycled fibres for the filling.
Cuddly is made of…
For the carrot's body, we picked a bright orange deadstock workwear fabric, that had been waiting in Globe Hope's storage to be used.*
For the carrot "green" tops, Globe Hope found out that the toy manufacturer's neighbour is a rope factory! They were happy to find use for their cut-offs, reducing material transport distances to almost zero.
Both toys are filled with cut scraps** created during the toy production process.
* What's deadstock? Deadstock means that these particular rolls of fabric were ordered in excess from a workwear manufacturer and were in the end not needed to make the pieces of clothing they were intended to become. These extra fabrics are often thrown away.
** What are cut scraps? Usually, when manufacturing e.g. clothes, 10–35% of the fabric rolls are wasted in the manufacturing process. It's simply because most clothes – and our toys – are not made up from basic rectangles that can be neatly arranged on the fabric. Instead they have some pretty weird shapes that generate leftovers. Those leftovers go inside our toys, making their manufacturing as close to zero-waste as possible.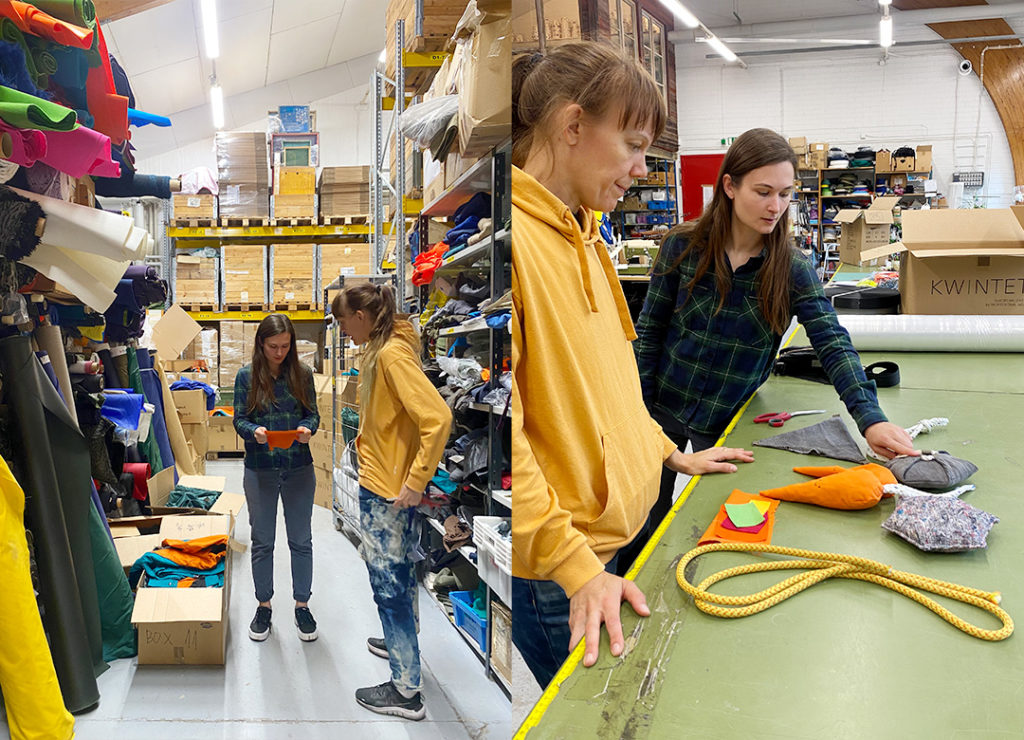 Who makes my toys?
Alvar's upcycled toys are produced in by Rutiks Oü in Loksa, Estonia. It is a small size factory with a team of 5-9 people. Globe Hope has been working with them since 2008.
Our tips to make Alvar's Upcycled Toys last loooong
Part of sustainable consumption is also learning to value the products you buy by caring for them and repairing small damages instead of throwing the whole product away.
Even though our toys are made from waste and almost no new resources have been used to create them, it's great to keep them out of the waste for as long as possible. 💚
Here's how:
Mend small holes or untied knots by following the instructions on the hang tags of the toys. All you need is a needle, a thread and your hands.
Follow the care instructions and only wash the surface of the toy. Tumble drying and bleaching do a lot of damage to any textiles, so avoid these to extend the life of toys.
If your dog gets tired of a toy but it is still in great condition, give it to a friend, re-sell it or donate it to animal shelters or other pet-related charity.
If the toy finally reaches the end of its life, make sure to recycle it correctly. Many places nowadays offer textile collection points, where broken and damaged textile products are properly recycled or for example shredded and reused for car seat filling and other stuffing purposes.
Get your paws on Alvar's Upcycled Toys 👇