What comes to treating the skin of humans, you've probably run into the blooming (hehe) natural cosmetics scene. Nature hosts some powerful remedies and throughout the centuries, Nordic people have held the wisdom of harnessing it.
🌲 Take spruce resin for instance: trees produce it to heal wounds on their bark, and to protect from infection. Resin does the same trick for skin too – be it the skin of humans or dogs.
🐝 And then there's beeswax, a building block that bees produce to shelter their harvest (pollen, nectar, honey) and raise their brood (eggs, larvae, pupae) in.
🌼 Add a dash of rapeseed oil for consistency and the extra vitamin E injection and there you have it: the humble genius that is Alvar's Care Balm. The multipurpose salve and staple for every dog's home pharmacy.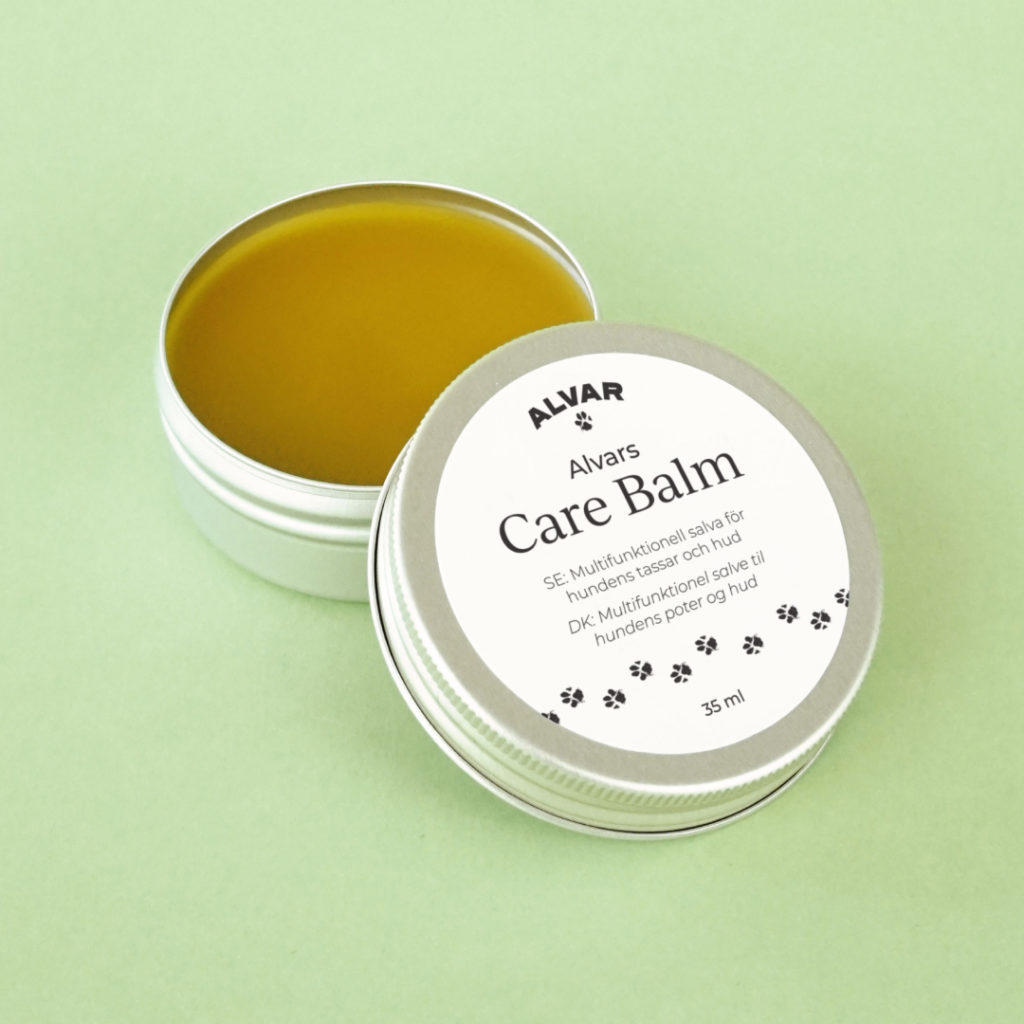 Care Balm in a nutshell small tin jar
Initially we called it paw wax but digging deeper, this pal is much more than that. "Multipurpose" is a big word to live up to, but here's the list of benefits that the Care Balm ingredients harness:
Enhances skin epithelialization
Antimicrobial and anti-inflammatory
Calms irritation and doesn't sting
Nourishes and hydrates skin
The smell of the product can prevent dogs from licking their wounds
The latter is also a bonus for any dog owner who's tried a paw balm – only to see their dog lick it all off at literally one go. 😂 According to our test panel feedback, Care Balm doesn't have a particularly appetising scent or flavour!
Who's it for?
Care Balm is a cornerstone for every dog's home pharmacy. It suits dogs of all shapes and sizes, from puppies to seniors. The powerful combination of ingredients will help treat:
Wounds (infected and non-infected)
Scratches
Small burns
Insect bites
Paws in need of protection against harsh conditions and surfaces, like freezing temperatures, gravel, road salt
Care Balm can also be a great solution for dogs with sensitive skin or paws:
Itchy paws
Eczemas and hot spots
Furunculosis
Skin folds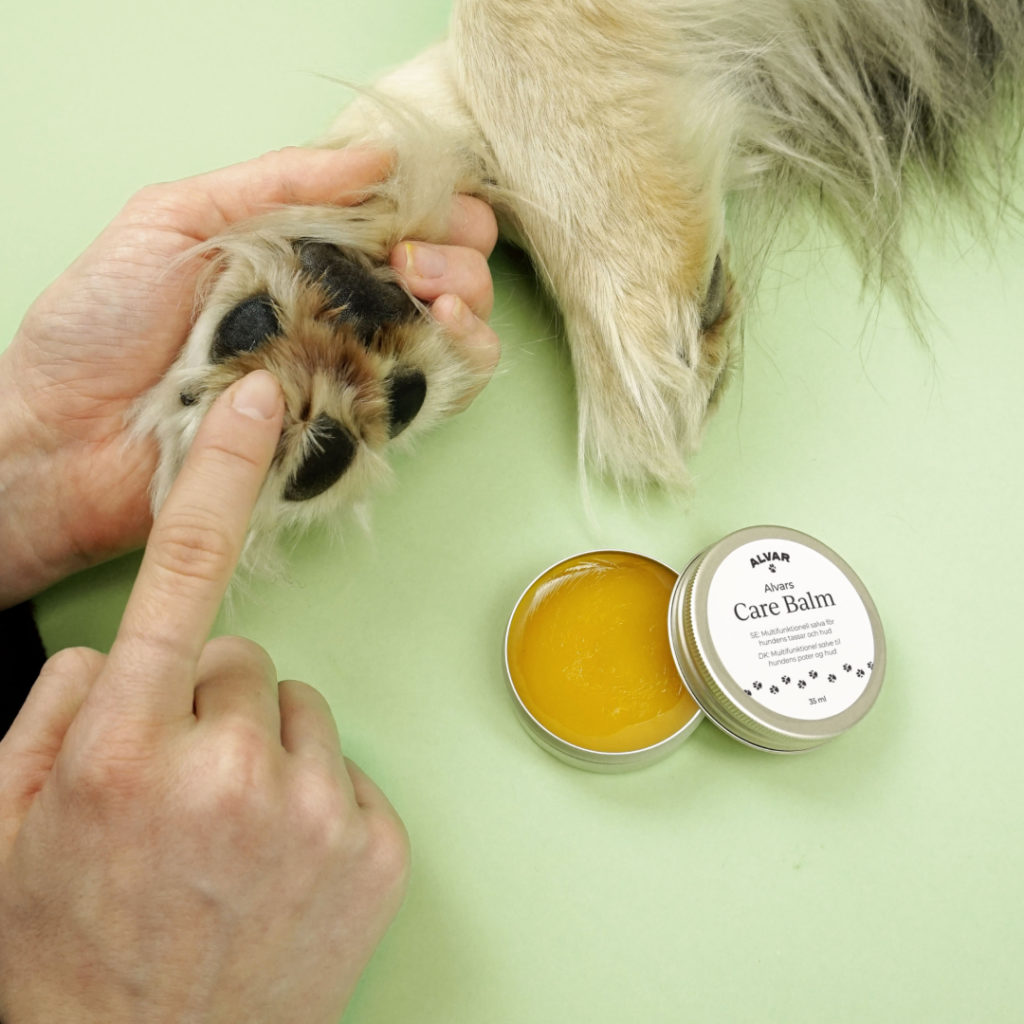 How's it used?
Using Care Balm is simple. Open the jar, grab a little dollop (seriously, a little goes a long way with this one!), and apply it to the area in need of treatment.
You can apply the product as a treatment couple of times a day until the scratch has healed, or use it regularly over periods of time to offer protection. Make sure to clean and dry the treated area before applying the product – and always use the product with clean hands. 👐
In terms of consistency, we call it a salve as it's in between balm and wax.
Supporting local, sustainable production
For manufacturing, we chose to partner up with Kyrö Living – Fiini Naturally for this project. From the first chats it was clear that the two superwomen behind the company, Essi and Heidi, not only shared our values but had deep expertise in natural cosmetics and proven ability to transfer that knowledge into products for pets.
They also had an amazing, established network of local producers in Ostrobothnia (west coast Finland). How does this sound for sourcing distances:
The spruce resin is from Lapua, 30 km from their factory in Isokyrö
Beeswax is produced by Sugar Daddies Honey Company (cool name alert 🚨) in Isokyrö – "the furthest bee hive is 5 km from our factory", laughed Heidi when asking for details
The rapeseed oil, produced by Alavuden Öljynpuristamo, travels 60 km to the Fiini factory
Get your paws on it:
Alvar's Care Balm is available now, for 19.90€, at our webshop. Tag your product experiences and dog photos with #UnboxingAlvar, we can't wait to see and hear from you(r dog)! 💚